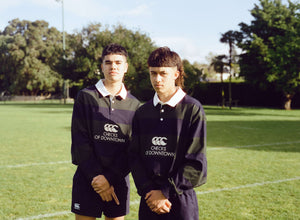 Checks x Canterbury
Established in 1904, Canterbury of New Zealand started out making tough woollen garments for the challenging New Zealand weather.
They were so good at it that they were asked to make uniforms in World War I for the Australian and New Zealand armies.
Then came the real prize... The on-field kit for the All Blacks.
The rest is history
Get happy...
Joye Jewellery
Collection One. Handpicked freshwater pearls and semi precious stones co-mingle in a kaleidoscope of colour to create considered pieces that will inform your look for seasons to come.
Latest New Balance & Salomon...
Sneaker Feelings
Grey lovers get another smack of back to the future love with New Balance's re release of the 990 series 4, and Salomon up the ante with the latest XT-6 colour up
Looka Yonder
Our weekly mash ups of what we sell, why, and how we imagine the jigsaw fits together.